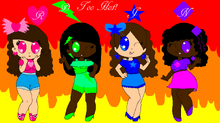 About Rosanny Rodriguez
Rosanny is the lead singer at !RTJN! She is of a Dominican descent. While in the eighth grade Rosanny along with Deasia Celaire, Janiah Ortiz, & Nicole Johnson they made a first song while in spanish class titled "Janeiii" after that song and artwork was made for their new group RTJN. Until, the girls reunite with their new friend Titilola Shogbonyo. It is uknown if the group will become RTJN or have a different band name.
Rosanny's Backstory
Rosanny was born in Santiagom, DR on March 29, 2004. Rosanny lived with her mother Ana "Anny" Gutierez and her father Ramone Rodriguez. Ramone then moved to Brooklyn, NY due to his job. Ana disliked Ramon being far away. Ana made a little trip to go to Brooklyn for the Christmas holiday. Rosanny was only 5 years old when she first went to go to Brooklyn. A couple of years later she then moved to Brooklyn to be with her father more. Ana then had another daughter Adriany Rodriguez.
Meeting Deasia & Nicole
When Rosanny enrolled to the same school as Deasia and Nicole. Deasia and Rosanny were closer than Rosanny and Nicole. Due to Rosanny not pronouncing english really well she use to call Deasia "Decia"
Meeting Janiah Ortiz
In the fourth grade, Rosanny was in the class with Deasia, Titilola Shogbonyo, and the new student Janiah Ortiz. Rosanny, Janiah, & Deasia grown a little trio and hanged out with each other. But when the 5th Grade came around Janiah moved to Baltimore, MD.
Reunited With Nicole
In the 5th Grade Deasia & Rosanny were reunited with Nicole but Rosanny & Nicole weren't friends with Deasia due to many amounts of disagreements.
Only one in 601
In the 6th Grade. Rosanny was in class 601, while when Janiah came back the other 3 were in 602. While in 601 Rosanny befriended Rudanny Perez. Rosanny had other friends.
!RDJN! Creation
During summertime Janiah said "Our reading teacher is calls me "Janeiii." After that the girls mad their first song titled "Janeiii" and put all their catchphrases in the songs to make it goofy.
Bye Bye De-Asia!, Hello Titi!
Deasia moved to Key West, FL & left the group but the girls made a special bond with Titilola Shogbonyo and renamed the group to !RTJN! Currently the girls are working on a new song called "Fluffy Bab!es"
Rosanny is the oldest at 13 but is the last tallest at 5'1.
Rosanny is the only girl to be born in her national culture.
Rosanny is bilingual, she is fluent in both Spanish & English.
Rosanny's Countepart is Rosenny Rodriquez.
Rosanny's symbol is a Heart.
Rosanny name is mispelled by most people as "Rossany"
Rosanny & Janiah call themselves "Dominirican or Domini-Rican"